We want to help your company rise the ranks on search engines like Google.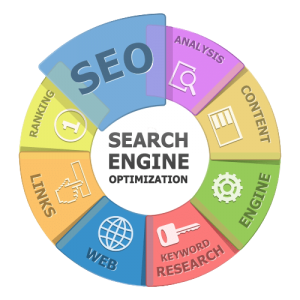 How SEO Helps your Business Grow
Website design and SEO go hand in hand. Sites designed without SEO in mind can cause ranking issues down the line. Our goal is to make your information easily accessible and increase your business inquiries. A good SEO service provider can boost the ranking of your website which quickly results in increased sales and higher profits.

On the one hand, when you optimize your website for SEO, it means that you are optimizing for organic search traffic. You choose your primary keywords, write content that people love and provide meta information to help Google better understand the copy.
Optimizing your website for conversions on the other hand is focusing on guiding visitors toward a specific goal such as buying one of your products. Just like Google, you want to give your audience exactly what those consumers want.
Knowing how to optimize your website for SEO and conversions simultaneously furthers both of those goals and creates a better relationship between your site and the search engines.
Every business wants its audience to convert at much higher rates and that's where we come in providing SEO service that provides real life results.
Page speed is highly important for SEO, the reason why we include website speed and performance optimization service in every new website we build. Our SEO strategy is tailored to your specific business. We impliment the developed strategy by integrating target keywords into content and website Meta data. SEO is not a one-time-only deal. You can't set it and forget it. SEO requires on-going research, testing, tracking and adjusting.